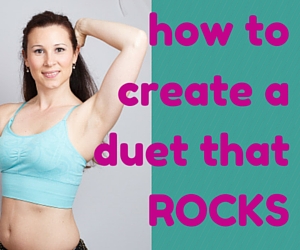 What could be better than rocking your own bellydance performance? Rocking that performance alongside one of your best bellydance buddies of course!
We all love the idea of teaming up with our bff for double the sparkly fun, but what does it take to actually create a bellydance duet that smashes it out of the park?
In this week's blog, I'll give you the low-down on
how to get your duet off to the best start as well as make sure you get it finished
teaming up with the right duet partner in the first place
how to make sure you'll both pull your weight as a team (so you don't end up getting p'd off with each other!)
how to get off the ground with your own choreography
4 choreographic concepts that you can use in your duet (plus I'll show you real examples of dancers doing them)
how NOT to go about choreographing your duet
So go ahead, dive in and get the scoop …
For many of us it's back to school time which means taking on new projects. Will a duet be one of yours this term? If so, I hope that this week's vlog helps you get off to the best possible start 🙂
And of course I'd be so grateful if you were to share it with all your friends.
Once you've had a look at the tutorial, I'd love to know: what are your tips on creating a duet? What were the struggles you came across and how did you overcome them? Leave your thoughts in the comments below.
Thanks for reading,
Love and shimmies,
Helen
xx
Ps. Subscribe for blog updates with bellydance tips to get on track and stay inspired. Plus receive my free online class! Go here to get yours.