Success Stories
Hear what some of our students have to say about learning belly dance with us.
Pooja Parthiban on The Santa Maria Bellydance Academy
Sandy Matzen on The Santa Maria Bellydance Academy
Angie and Mandy on the Santa Maria Bellydance Academy
Sue McLellan on The Santa Maria Bellydance Academy
Cherie Marshall on coaching for professionals with Helen Santa Maria
Louise Brooks on IDTA Diploma and coaching for professionals with Helen Santa Maria
Jane Loxton on the Santa Maria Bellydance Academy
"It makes me feel so feminine, no-one is judgemental about your size or shape, and that gives us confidence to feel comfortable with the way we look in class. I love dressing up and creating costumes, and the cameraderie which enables us to contribute to each others' outfits. Helen is very supportive of us and allows us some freedom with the
choreography. She helps us to move outside our comfort zone, which is a great way of learning." Here's what else she has to say:
Gail Wilkinson on the Santa Maria Bellydance Academy
Cari Weston on the Santa Maria Bellydance Academy
High Level Professional Breakthrough coaching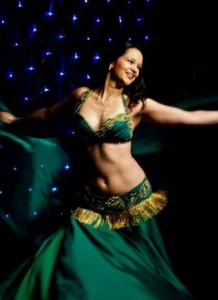 Testimonial for SMBA Professional Bellydance Business Coaching by Rachel Bennett
Business coaching with Helen is a caring and dynamic experience that really yields results!
I sought Helen's expertise to expand my bellydance school and meet a growing demand for more classes.  Students were also requesting new professional training services, which I had not previously delivered.
I knew Helen already offered those learning opportunities in her dance academy and had significant experience in recruiting and retaining bellydance coaches.
I wanted a fool-proof method to develop both aspects of my bellydance school business.  I wanted to cut through the years it would take me to achieve those results working alone.  I also wanted to avoid the pitfalls associated with expansion and new service delivery.
Helen's bellydance business coaching was well planned, detailed and specifically did just that.  I came away with thorough logical toolkits, which I have used to successfully recruit new bellydance teachers.  I've also shaped and sold my professional training packages above and beyond my original expectations.
If you want excellent solutions then I highly recommend business coaching with Helen for
professional dance teachers.  It'll be one of your best investments!
Rachel Bennett
Principal Teacher
Rachel Bennett School of Bellydance
www.rachelbellydancer.comPhoto by Maani Vadgama
Shining Goddess Advanced Program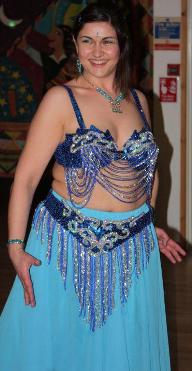 Angie Ruiz
I have been going to SMBA classes now for almost 4 years and have moved from Beginner, to Intermediate to Advanced Level. I have also done Bronze and Silver IDTA Exams and attended SMBA workshops.
Thanks to SMBA I have a big happy smile and I feel relaxed in body and mind. Before I started attending courses at SMBA I never thought I could work on my own choreography. But now I am much more confident in my own ability and I'm also more toned and shaped in my tummy.
Some of my best friends are now from SMBA, we meet up from time to time and never get bored of talking about the fantastic world of bellydancing!
If you have any questions about the value of the classes and programs at SMBA, feel free to contact me: angieruiz@hotmail.co.uk
Shining Goddess Advanced Program and BellyDrill classes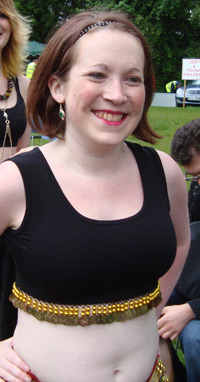 Cari Weston
SMBA courses have given me a whole new way of approaching my dancing – I now feel that I have a much better understanding of bellydancing through learning about musical interpretation and how to develop choreography.  I feel that SMBA has taken my dancing to a whole new level, in terms of improving my technique and giving me more confidence, passion and enthusiasm for bellydance!  The classes are so welcoming and supportive, both the teaching and the other ladies in the class.  I have gone further with my dancing than I ever thought I would be brave enough to do and I can't wait to see what I do next!
Before I started courses at SMBA, bellydancing was just another hobby that I had had a go at and I wasn't too worried about skipping sessions if I was too tired after work etc.  When I joined the SMBA classes, because I learned so much and enjoyed it so much, it has become much more part of my life.  The structure of the classes leading towards performances and completing choreographies means that I can't bear to miss a class.  I am so much more motivated not only to attend classes, but to properly rehearse for shows, learn choreographies and get the right costume!
SMBA has given me the confidence to be a better performer and to take on more challenges. It's also taught me about musical interpretation and the structure of bellydance music and given me a real passion for bellydancing and a desire to learn as much as possible!
If you have any questions about the value of the classes and programs at SMBA, feel free to contact me: tindel_18@hotmail.com
Shining Goddess Improver Program and BellyDrill classes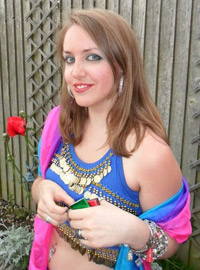 Joanne Oates
At SMBA I am surrounded by talented, inspirational women and I feel privileged to be a part of it! We are given the choice to showcase what we have learnt at various events, which has really improved my self esteem and my confidence. I have met some amazing people and it is such a fun way to keep active. I could not see myself not being an SMBA student!
Before I joined SMBA I was fairly quiet and I just kept my head down. Now I am a lot more outgoing and I have a passion for something, which I look forward to taking part in every day, whether it is practicing at home, or one of the classes. Joining SMBA was a fantastic decision, as I now belong to something so inspiring, which brings out my femininity!
Learning bellydance at SMBA has given me confidence, I would never have been able to perform in front of audiences before!  I have gained gracefulness too – I am a fairly clumsy person by nature, but under SMBA tuition I have learnt to dance more elegantly. I now have dedication and passion for something thanks to SMBA.
If you have any questions about the value of the classes and programs at SMBA, feel free to contact me: joanne.elisabeth@hotmail.co.uk
BellyDrill classes
Karen Double
I really enjoy the classes at SMBA, I learn something new every week. It's a fun thing to do, we always have lots of laughter during the lessons. We work hard, which I love, but at the same time we don't take ourselves too seriously. I'm sure that it has made a difference to my waistline! It makes me feel feminine. I love having the opportunity to watch really good dancers and having something to aspire to.
I've always been active and enjoyed physical exercise, running, yoga gym etc. But I've always had a desire to learn a form of dance really well, and never been quite able to find a form of dance that met my needs. E.g. I went to Ceroc classes for a while, and although the classes were taught well, it's obviously a partner dance and I stopped going because, to put it politely, learning to dance wasn't the sole motive of some of the male students! SMBA allows me to indulge my desire to dance in a way that I'd always wanted to, I really look forward to the lessons each week and learning something new.
As a result of SMBA, I feel really motivated by the classes, something that I haven't experienced for a long time. Knowing that I have come a long way since I started (the way that I now watch other dancers has changed because of this) makes me want to keep it up and be the best that I can at it!
If you have any questions about the value of the classes and programs at SMBA, feel free to contact me: mrskarendouble@gmail.com
Shining Goddess Intermediate Program and BellyDrill classes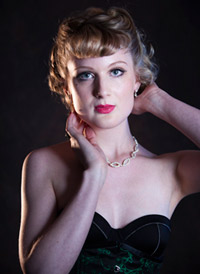 Louise Brooks
The Classes at SMBA have really helped to progress my dancing ability and pushed me to be better than I ever thought I could be. Helen and all the instructors are really helpful, informative and passionate about teaching dance and this comes across in all the classes that Helen, Cherie and Mims teach.
The classes have allowed me to make new friends within the dance community and the End of term performances (Summer Spectacular) really give you a chance to feel fantastic and to show off what you've learnt, whilst having a good time amongst friends.
I can't actually think of a time before SMBA. I love dancing so much and Helen has really helped me to realise my true potential and ambitions. The Girls push you to be more than a better dancer – learning about the culture, instruments, how to choreograph is invaluable and it's incredible to have such resources and classes at your fingertips. The instructors also help to give you so much confidence in yourself and your abilities, and it really makes you feel more confident in your life outside of dancing too!
Since learning bellydance with SMBA I have gained a massively improved self esteem and greater confidence in myself. I've experienced a massive improvement in both my dancing and knowledge in the rhythms, instruments and choreography. I've found something that I really love and enjoy and that makes me happy. Hopefully I can pass this on to others one day.
If you have any questions about the value of the classes and programs at SMBA, feel free to contact me:  louise@brooks.eu.com
Shining Goddess Intermediate Program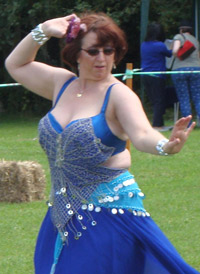 Rosina Boden
I have always loved to dance, so this was a great opportunity for me to get fit and do something I love doing, but I never knew just how much I would love it.
I enjoy the social aspect of Belly dance and the confidence I now have is amazing, I would never in a million years have said three years ago that I would be performing in a group, let alone doing solos on my own and here I am performing for different events around West Berkshire. I enjoy the whole experience very much.
My life was very mundane and boring before I joined SMBA, I found myself getting very big and needed something to liven things up a bit and get me off the couch, SMBA has done just that, I have now lost some weight and have a new group of friends who love to dance just as much as I do, being able to dress up and play around with makeup must be every girls dream and I am living it. It is nice to feel feminine and special again, I now have confidence, isolation and movement of my body and I am more supple.
If you have any questions about the value of the classes and programs at SMBA, feel free to contact me:_rosina54@hotmail.com
Shining Goddess Improver, Intermediate, Advanced and BellyDrill classes
*Photo by Nadia Bargir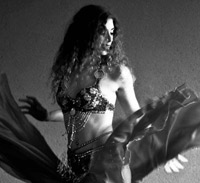 Sandy Matzen
The atmosphere of any class at the SMBA is so inviting and it immediately puts people in a good mood. I simply love going to class, I am already looking forward to the class the moment I wake up on that day.
I have heard others say they have had a terrible day at work and everything went wrong and they were glad to be able to come to class to enjoy themselves and leave the bad day behind. I can tell that Helen is very careful with the instructors she chooses for her school which maintains the high quality standard I associate with SMBA.
I have always been active and enjoy trying out new things, my life was not boring and to be honest even without starting belly dance my life would be a bit hectic as I am trying to make the most of every minute in a day! However belly dance has now so taken over my life that I started replacing other activities by devoting my time to belly dancing as I find it liberating, enjoyable and challenging. I just had my one year anniversary and told the world about it. I cannot wait to become a better dancer and performer through SMBA
Since I started learning bellydance at SMBA I have started the Drumzy school foundation course where I finally started to learn to read music which is what I have always wanted to do but never found a way how to begin, I am so excited of learning how to drum and to interpret music. I have also created and performed my very own choreography.
If you have any questions about the value of the classes and programs at SMBA, feel free to contact me: sandymaya@gmail.com
Professional 'breakthrough' mentoring and coaching for bellydance professionals with Helen Santa Maria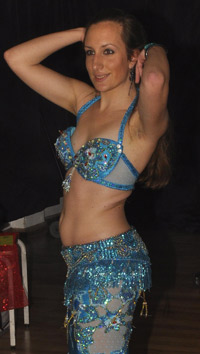 Mirjana Rasovic
Helen is like your personal cheerleader who, not only provides you with positive feedback but provides you with timeless, realistic advice. Her words stick in your head and keep you going through any dance situation.
Helen has helped me expand my ideas in my dancing and see them through with growing confidence. With great ease she has helped me understand how dance situations vary, what to expect from them, and what is expected from you.
I have gone from performing in a troupe and dabbling with fundraising to independent professional dancing at bellydance cabaret shows, restaurant performances, promo events, festivals and now teaching. I hope to develop all of these and further adapt my teaching style to different classes, which I am grateful Helen is now giving me a chance to do.
Prior to having Helen as a mentor what did I know? I knew I enjoyed dancing and thought I might enjoy teaching but had no idea if I could actually do it or how to go about it. My aspirations were all jumbled in my head. Helen has helped me structure my thoughts, translate them into bitesize goals which I am now realizing.
The most important improvements that I've experienced since working with Helen are confidence, structure in my performances and promotion of my dancing. I'm actually a 'professional dancer' who is having a lot of fun with learning in the process!
I am happy to answer any queries about my experience of working with Helen, you can email me at billy_midge@hotmail.com
Professional 'breakthrough' mentoring and coaching for bellydance professionals with Helen Santa Maria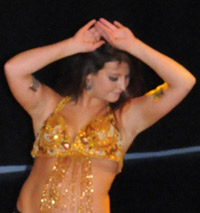 Katie Stevens
Since having professional coaching and being mentored by Helen I have found that my confidence in my ability to dance and also my confidence to dance in front of audiences has risen to high levels – I have now danced at festivals, in Carnival processions, at 2000 capacity venues and up close and personal in restaurants.
Helen has helped me through every step of my belly dancing career – nurturing me from a beginner's level to now working me with while I continue to develop my work as a belly dancer! Any queries or questions I've had she has given me a helpful and constructive answer and this has helped me with many scenarios including improving my shimmies, helping construct a 2 hour set for a PR Launch party, and advising me how to translate music to dance. Another benefit I have enjoyed is a dramatic weight loss!!
Since having professional performance coaching with Helen, I am now on the path to my dream career! I used to work long hours and be very stressed out with my job to the point where I wasn't sleeping, I would often feel low and have very little self esteem –  since having professional coaching I am now loving life and really looking forward to trying to achieve my goal of being a professional full time belly dancer. Helen has given me the confidence and the knowledge to help me believe I can make this my job – stress isn't a word I use anymore as I never feel it and I just enjoy what opportunities life brings me instead!
When I first attempted shimmies I thought I would never be able to do them for more than a minute, and really struggled with the whole process of them! Helen gave me appropriate exercises and training techniques and told me to be persistent with them. I can now say I am very happy with my shimmies, and love to show them off too!
Before learning to belly dance with Helen I never thought I would be able to walk around a restaurant whilst people are eating and perform, or let alone performing in a carnival procession! But Helen has given me so much confidence with all different aspects of the dance, including how to move my body, how to interpret music, and how to perform in different environments, and this has helped me so much!
From taking videos of some of my first performances and taking videos of me now, I can see so much difference! I am now smiling and looking up when I perform and trying to bounce off the audience's reaction, whilst the old videos show me looking down and looking a little bit scared! My ability to count to music has improved too, which becomes very obvious in the videos! Also my technique and overall execution of the moves has massively improved, I can see how much more pointed and shapely my fingers and hands are, my body composition is centred and balanced and also all the moves look more neat and perfected!
I am happy to answer any queries about my experience of working with Helen, you can email me at katie.stevens5@hotmail.co.uk
Bellydance Hen Party Package
Lynda Holdway
Helen was amazing.  She was very professional but created a warm, fun atmosphere all at the same time; not easy with 20 "Hens".  Some of my friends had originally said that they would enjoy watching but didn't wish to participate however that didn't last long and everyone joined in pretty much from the start.  It was a great ice-breaker as most of my guests only had me in common and had never met before.  I would totally recommend Helen to anyone.
Shining Goddess Advanced Program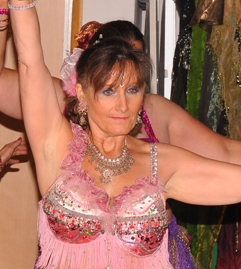 Marion Thornton
Since joining classes with Helen at SMBA I have completed
Intermediate & Advanced Programs, Bronze Medal Workshops a Drum Solo Workshop, Drop In classes.
I have thoroughly enjoyed being 'gently persuaded' into trying more and more advanced dancing. There is no pressure to perform, however, the lure of finding out what you could achieve is exciting. The students at SMBA classes from all the venues are friendly and very supportive, which is great when you are feeling nervous. Taking part in the exams was definitely a huge confidence booster. I never dreamed that I would attain a medal never mind Honours. I was thrilled. Attending SMBA courses has definitely improved my confidence, massively improved my technique. I actually feel like a real belly dancer thanks to SMBA.
Before attending SMBA classes I attended classes in my local area. The teacher was not supportive of her students and constantly criticised rather than encouraged. As she was the only one in the area and I wanted to dance I put up with it. But I am so glad of the turn of events that forced me to seek another school. I saw Helen at a Summer Event and thought 'I want to dance like that'. So I signed up for lessons and have come on leaps and bounds under her wonderful tuition. I can't say that I do dance like her but I have learned so much and feel a much more graceful dancer because of her. No more feeling like the hippo from the Disney Fantasia film for me.
Because of SMBA I now have the confidence to write my own choreography and I'm able to read different levels of music and the moves that complement them. One of the best results of joining SMBA is being able to attend events in the wider belly dance community and find that my teacher is known and respected.
If you have any questions about the value of the classes and programs at SMBA, feel free to contact me:
salomessister@btinternet.co.uk
Shining Goddess Advanced Program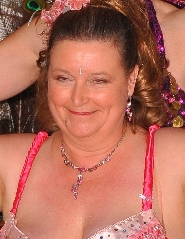 Gail Wilkinson
Although I was not new to belly dance when I joined SMBA I have learned so much in the last 2 years that my dancing has improved beyond all recognition.  I have been able to explore my own interpretation of the music and dance moves and have gained confidence in my ability to perform in public. The teaching, practical advice and encouragement I have received has resulted in my feeling secure enough to produce my own choreography and contemplate a solo performance in the near future.
Before joining SMBA I was not sure if I should continue bellydancing as I felt that I was not improving or advancing my skills. I had no opportunity to perform, something that I had discovered I really enjoyed, and was not encouraged to feel that I could do so on my own.
In the last 2 years I have not only found many chances to perform but have been positively encouraged to do so if I wished (although no pressure is put on any one to do so if they do not want to). My confidence in my dancing has improved several fold, as I hope my dancing has, and we are all encouraged to reach the highest level we are able.
This positive attitude has spilled over into other areas of my life and has given me a, much needed, boost to my general feeling of self worth.
Some of the best results I've had from learning bellydance at SMBA are passing my Bronze Level IDTA Exam – because a stranger thought I was good enough too, and finding a large group of supportive, positive, dance mad people who are prepared to accept me for what I am.
If you have any questions about the value of the classes and programs at SMBA, feel free to contact me: owlcove@hotmail.co.uk.
Drop-in Beginner classes, Improver, Intermediate and Advanced Programs, Desert Diamonds Troupe, bellydance exams
Hannah Shepherd
At the time of joining SMBA  I was at a Low point in my life – very little confidence and self esteem in tatters. Although I still struggle with nerves before performances, my life has completely turned around. I am body confident, have lost over 2 inches around my waist, lost a stone in weight, found the confidence to finish a destructive relationship and feel ready to date again.
I used to do competitive swimming and thrived on the discipline and achieving personal bests. In later life the gym sufficed but it was an effort to get to. Bellydancing has given me constant goals to achieve and own which has held my interest. It seems the further you go the further you see you have to go. Plus, learning to perform gives the added benefit of putting together a new outfit and feeling like you're going to a ball two or more times a year!
Some of the most important results that learning with SMBA has delivered to me are: body confidence – learning to be a graceful, sensual and beautiful woman; fulfilment in seeing goals achieved; learning to dance and understand music.
If you have any questions about the value of the classes and programs at SMBA, feel free to contact me:
oldsheppie@hotmail.com