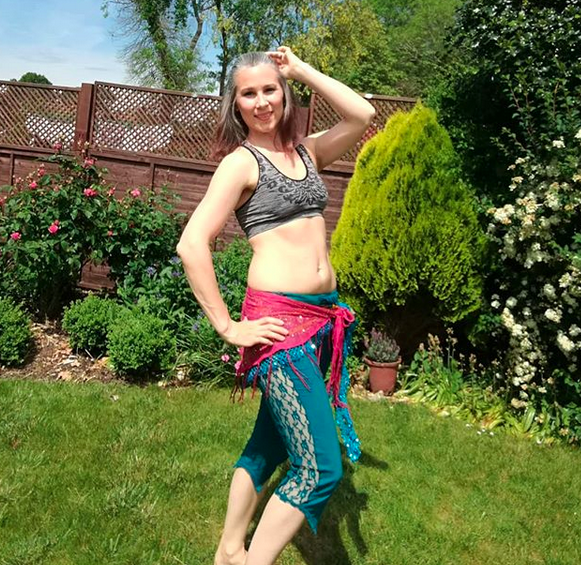 Come into my belly dance garden! It was a beautiful day when I came to film this workout, so I just had to take it outside 🌳
In today's class I'm giving you a progressive belly dance workout focusing on the waist. It's really important for us bellydancers to keep the sides of our body strong and supple.
I've packed a LOT into this session and you can expect to find:
Detail on technical elements of smooth and sharp moves
Drills on each of the movement components
Combinations and variations of the moves
I even include a warm up and brief coll down too!
The bonus "side effect" of repeating these kinds of moves is that we end up with a nice toned waist – woo hoo! (Although the main aim of this is to gain max enjoyment from your dancing ad feel good from the inside.)
I hope you enjoy it! Let's get started …
[Video live 13 June]
Your belly dance assignment
I challenge you to take this class at least 4 times a week for a month! I promise you that you will feel stronger and more supple along the sides of your body (you may even notice a change in the contours of your torso). I'd love to know how you get on, be sure to leave a comment on the main YouTube page and let me know.
Learn with me online ▶️📲 💻
If you enjoyed this express class, you might like take a three day free trial of my complete online studio.
We now even have our very own private, bonus SMB Online facebook support group where you can get bespoke feedback from me live-streamed! Free for all current SMBO subscribers. You'll also be assigned regular classes in the group to keep you on track. Plus, I give you an Intensive Week each month to help your dancing improve consisently.
I've had some awesome feedback from my Santa Maria Bellydance Online student members recently:
"I really hope more people take up the opportunity to try online classes with such a supportive teacher." SMBO student, UK
"I have gained so much from joining SMBO at the beginning of the year. My dancing has progressed and I have had a breakthrough with writing choreography due to Helen's help. The website is amazing with a huge amount of tutorials for all levels of dancers. Helen is very accessible and answers all questions really quickly and fully. It is great value for money. I love it and would recommend it to anyone." Sue, UK
Would you like to join my online studio?
Get access to my full length, comprehensive classes, drills, choreography sequences, movement tutorials, technical preparation exercises at Santa Maria Bellydance Online. You can learn with me anywhere and any time you have internet connection at just £15 a month for the entire (growing) library. Go to www.santamariabellydanceonline.com to find out more and get started now!
Thank you, as ever, for reading and watching.
Love and shimmies,
Helen xxx
Ps. Still not sure about joining SMB Online? Here are a few screen shots of my recent uploads to the site to give you an idea of what to expect: