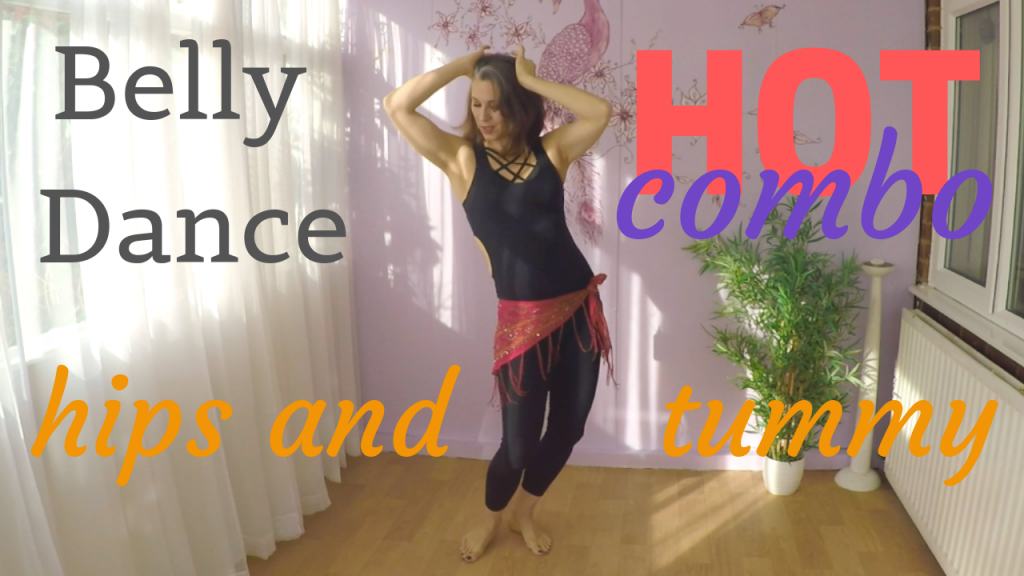 How to combine belly dance moves
I LOVE seeing my belly dance students getting creative. It's a super satisfying moment when you see dancers you've taught coming up with their own creations.  And it doesn't just make me happy. Studies show that getting creative is good for their mental and physical health too – win win!
BUT one of the most common stumbling blocks for belly dance students is feeling confident dancing independently. To put it another way, they feel anxious when they are left on their own to improvise or make their own routine.
Dancers often doubt their own dancing when they try something they haven't learned directly from their teacher. And I don't want that for you!
In today's class, I want to give you the confidence to be playful and creative with belly dance moves you already know.
We'll be using a hip circle and and a camel and putting them together in 3 different ways, getting more innovative as we go along.  And the best bit? It's not super complicated and you can apply this idea to different moves!
Carve out a few minutes for yourself and get stuck into this week's class. Be sure to comment on the main YouTube page and let me know what you think!
Your belly dance assignment
Clear your mind before you start the class. Turn off all distractions and tell your household you'll be unavailable for a bit. Then, grab your fave hip scarf. Take the class and be ready to follow these moves with one or two similar – or "sister" as I like to call them – moves. Mix and match a similar family of moves and see where it takes you. The real art is to do a lot with a little, it's not about adding zillions of moves together!
Learn with me online ▶️📲 💻
If you enjoyed this express class, you might like take a three day free trial of my complete online studio.
We now even have our very own private, bonus SMB Online facebook support group where you can get bespoke feedback from me live-streamed! Free for all current SMBO subscribers. You'll also be assigned regular classes in the group to keep you on track. Plus, I give you an Intensive Week each month to help your dancing improve consisently.
I've had some awesome feedback from my Santa Maria Bellydance Online student members recently:
Hazel says:  "I find SMBA online so much better than I imagined. For me, the biggest benefit has been your check in Tuesday videos. Having a safe place to ask questions has been so helpful. Also I have many Bellydance DVDs but I find your instructions much better. We know that moves can look different on different bodies so it helps so much that you describe how something should feel so even if I don't have a mirror, I can tell when it's right."
And Elsa says:
"I truly love SMBO. I first learned about it on YouTube. I loved the step by step basics. I started to feel I can really bellydance. I felt pretty in inside. Helen is extremely supportive and available to her students. I highly recommend it for any age group."
Would you like to join my online studio?
Get access to my full length, comprehensive classes, drills, choreography sequences, movement tutorials, technical preparation exercises at Santa Maria Bellydance Online. You can learn with me anywhere and any time you have internet connection at just £15 a month for the entire (growing) library. Go to www.santamariabellydanceonline.com to find out more and get started now!
I also have some super exciting, live, teaching happening here in the UK. Hop over to my Workshops and Events page to stay in the local loop.
Thank you so much for reading and watching 🙏 Happy dancing to you.
Love and shimmies,
Helen xx