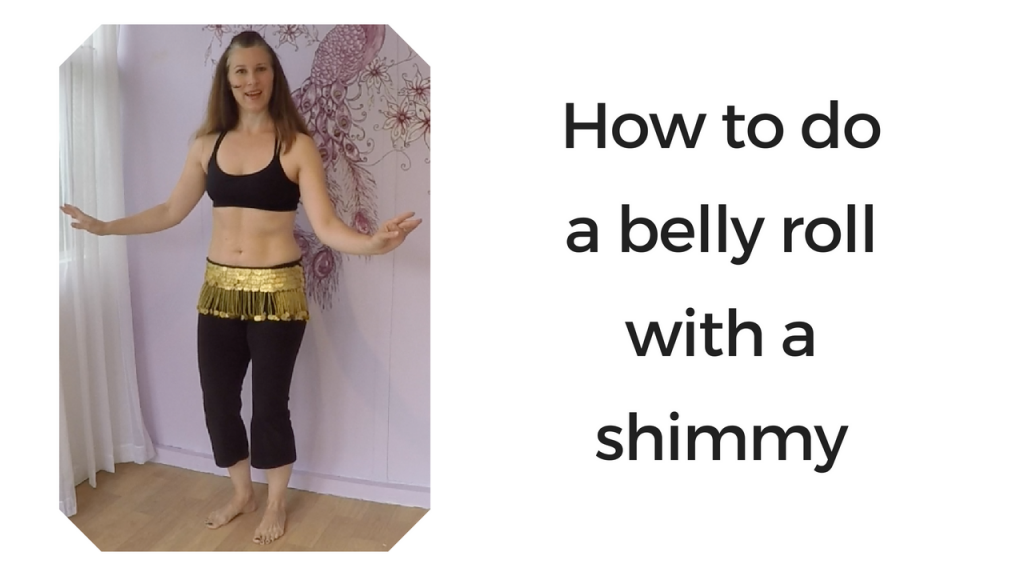 Everyone loves a crowd-pleaser
Credit where credit's due, I recently had this brilliant request from a YouTube viewer,  and I can see why!
Adding a shimmy to your belly roll, or adding a belly roll to your shimmy (whichever way you look at it) is a super fun move to drop into your routine. It's one of those "how does she do that?!" moves that makes you feel really special and accomplished as a dancer.
Here's an express class from me on how to achieve a shimmy with a belly roll. Ready? Let's get started!
Thank you so much for joining me for this week's express class! Be sure to join the conversation, leave me a comment on YouTube and let me know what you think. Do you have any top tips to share? We'd love to know!
Your assignment
Pay attention to your breathing as you work on this move. Are you holding your breath? Are you teaming up your breathing with the roll? Aim to keep your breathing relaxed and isolated from the muscular undulating action of the roll.
Learn belly dance with us!
Our Autumn 2018 courses are now open! Early bird prices are in full swing on all courses from Beginner to Advanced and troupe level. Go here to grab your place.
Not local to me here in Reading? If you'd like to learn how to bellydance with me from the ground up (or rise to the top of the class if you already bellydance), let's hit the ground running distance learning style!
Using my longer, more comprehensive classes, drills, choreography sequences, movement tutorials, technical preparation exercises at Santa Maria Bellydance Online, we'll have you confidently bellydancing in no time 🙂 You can learn with me anywhere and any time you have internet connection. Go to www.santamariabellydanceonline.com to find out more and get started now!
Thank you so much for reading and being here. Happy dancing to you, with love and shimmies,
Helen xx
Ps. Local to me in the UK? Here are some Summer learning opportunities with SMBA that I think you'll love.
Summer drop-in sessions with Helen
Join me for some fun and fabulous bellydance fitness this Summer! With an entire session dedicated to upper body work and another to focus on everything from the waist down, I've got you covered. Let's work up a sweat! Get full details and book your place here.
Classical Persian Masterclass with coach Natasha Saturday 21st July 11am until 2pm, Cotswold Sports Centre, Downs Way, Tilehurst, Reading, RG31 6SL. Book your place  here.
Learn stunning spins, turns, poses, advanced footwork and floor patterns. We will focus on fluidity, core strength, grace and elegance. Not sure what Persian dance is all about? You can thank the elegant posture of Persian dancing for it's influence on the upright, willowy mode of ballet. Dance historians agree that French Classical Ballet has its roots in Persian Dance and you can definitely see similarities in technique.
Natasha's workshop is fantastic for any level of dancer to strengthen, tone and improve posture but more importantly the feeling of openness and fluidity you get when you dance can be taken with you into any dance style and even your day to day life. Get ready to learn how to use your core to the max for elegant, controlled turns and fluid movements! Book here before 30th June for the early bird!
Pps. If you'd like oodles more videos with shimmy drills, technique, guided improvisation, be sure to check out my online studio. Here's a little taster of one of the classes: