"How to Put on a Show" Bellydance Performer Masterclass Series with Katie Alyce
SOLD OUT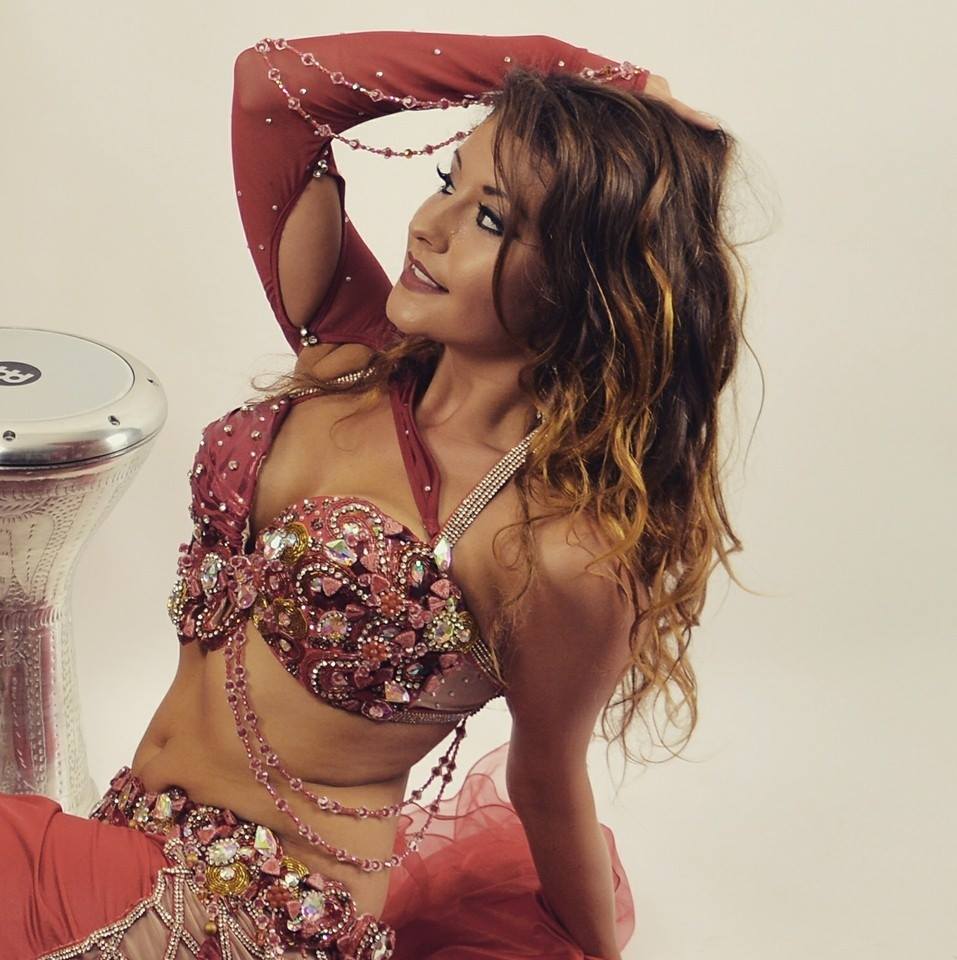 Join us for a very special Advanced Bellydance Masterclass series with sensational international performer Katie Alyce! Katie started her dance life at SMBA as a student and has also taught here. She has since gone on to a dazzling professional career, performing in Lebanon, Egypt, Australia, Spain, Morocco, Singapore and Malaysia plus she's also appeared on TV!
Using her vast and varied performance experience and turbo charged technical ability, Katie will lead a high content series of 3 workshops under the overall theme of "How to Put on a Show". It's all about becoming the best performer you can be and feeling confident giving it your all on stage.
This is a very valuable opportunity to gain tips, insights and knowledge from Katie who is a really fabulous and generous teacher.
The workshops work as a series, so we strongly recommend you come along to all 3 to get the best results. (Though they can be taken individually)
All workshops are held at:
Cotswold Sports Centre  Dance Studio
Downs Way,
Tilehurst,
Reading,
RG31 6SL
Workshop 1: Stage presence and connecting with your audience
Saturday 8th February 2020
12.00-2.00pm
Professional level coaching on how to connect with your audience, how to use eye contact, how to stay calm before you go on stage and how to show confidence. These are essential skill, whether you're performing on stage, in a restaurant, at a wedding or at a bellydance showcase.  Katie will show you how!
Workshop 2: Traveling Steps and Combinations
Saturday 29th February 2020
12.00-2.00pm
How to properly put together traveling steps and sequences. This is vital, particularly when it comes to making an entrance and also for moving around that stage artistically. Katie will teach you some of her own, very cool, combinations too.
Workshop 3: Linking movements together and keeping your audience engaged
Saturday 7th March
12.00-2.00pm
This session is all about how to effortlessly flow from one move to another as well as how to use powerful moves to shock and surprise your audience. You'll also learn how to use poses in your dance  and get great photos during your performance.
Early bird bookings for the series are open now! Places are limited, so be sure to book.
3 Workshop Masterclass Series with Katie Alyce SOLD OUT  £80 Early bird price until 31 December £65

Individual Workshops with Katie Alyce £30 SOLD OUT
*Kindly note that by making this booking you understand that course places are non-transferable and non-refundable regardless of student circumstances, e.g. illness, injury, holiday, pregnancy. You also understand that film footage and photos from the session may be used for promotional purposes.
Casbah Cabaret Deluxe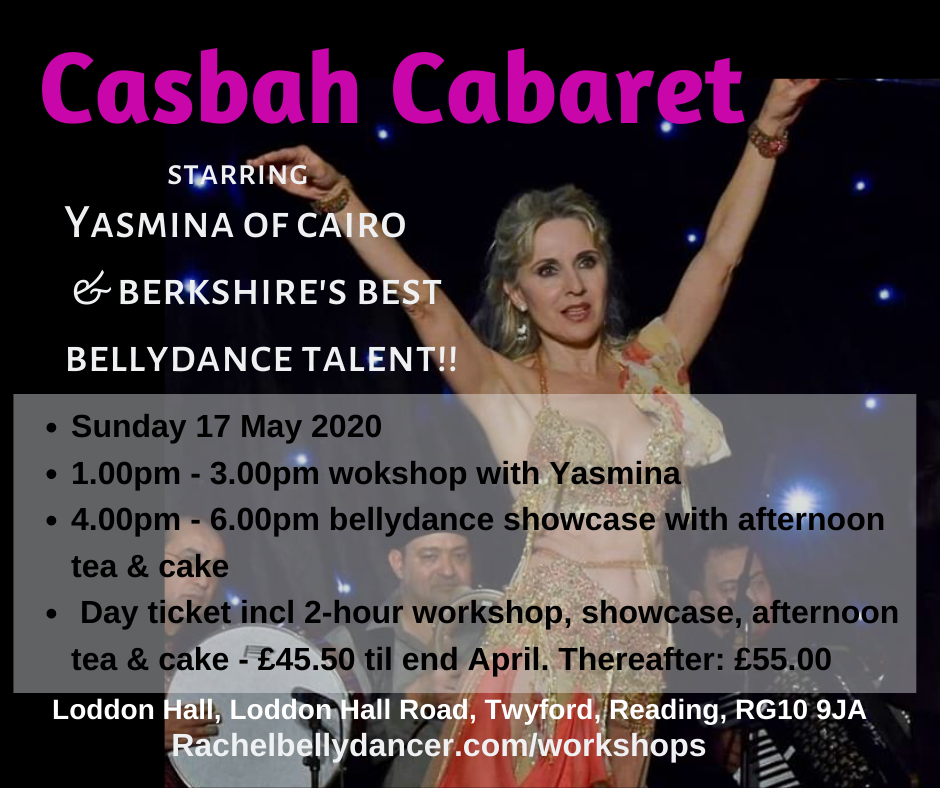 How would you like to learn a routine with bellydance royalty: Yasmina of Cairo and then perform it WITH HER on stage at a showcase afterwards?
We are delighted to announce the Casbah Cabaret Deluxe 2020 edition! Helen Santa Maria and Rachel Bennett have created another super exciting event for you!
The English Rose of Cairo: Yasmina will be returning to Berkshire to teach a workshop. This time, she will teach a gorgeous routine that you can perform alongside her at our decadent showcase with afternoon tea on the same day.  All workshop participants are welcome to join in (though it's not compulsory!)
This workshop is open level for improvers, intermediates, advanced and professionals.  Ambitious beginners might be surprised at what they can achieve under Yasmina's expert tuition.
👉 Sunday 17 May 2020
👉 Loddon Hall, Loddon Hall Road, Twyford, Reading, Berkshire RG10 9JA
👉 1.00pm to 3.00pm Workshop – learn one of Yasmina's beautiful routines
👉 4.00pm to 6.00p Showcase with afternoon tea and cake – optionally perform Yasmina's routine and apply for a group or solo performance slot.  You'll enjoy superb performances from Yasmina herself; her lustrous bellydancing is unmissable!
Our spacious venue has an elevated stage, so you'll enjoy a clear view of Yasmina, special dance sprung floors and free on-site parking.  There's a paying bar and we can't wait to serve you complimentary tea and cake at our shimmering showcase.  Advanced ticket sales only. Early bird ticket discounts run until end April 2020!
💰 Whole day ticket including 2-hour workshop, showcase, afternoon tea & cake – £45.50 until end April.  Thereafter: £55.00.
💰 2-hour workshop only – £35.50 until end April.  Thereafter: £45.00.
💰 Showcase only with afternoon tea & cake – £12.50 until end April.  Thereafter: £15.00.  Children – £6.50.  Under 5s free.
Q. "I love the sound of that! How do I sign up?!"
A. Click here and hop over to Rachel's website and scroll down to the drop down payment button.
Be sure to mark yourself as "going" on the Facebook event and turn on notifications. That way you'll be one of the first to know when performance places are open. Also, stay tuned to our newsletters.
Mark your diary now!
It's your opportunity to perform! All workshop attendees are invited (and encouraged!) to perform Yasmina's routine with her on stage at the Casbah Cabaret Deluxe afternoon tea showcase.
We're also opening up solo and group performances for workshop-ers, local students and bellydance friends on 1st March.   Slots are open to all dancers, though priority will be given to RBSB and SMBA & SMBO students.
Are you looking for an exciting performance opportunity? You've just found it!
Performance applications open 1st March. Stay tuned to our event page for deets on how to apply.