Bellydance by Candle-Light –
SOLD OUT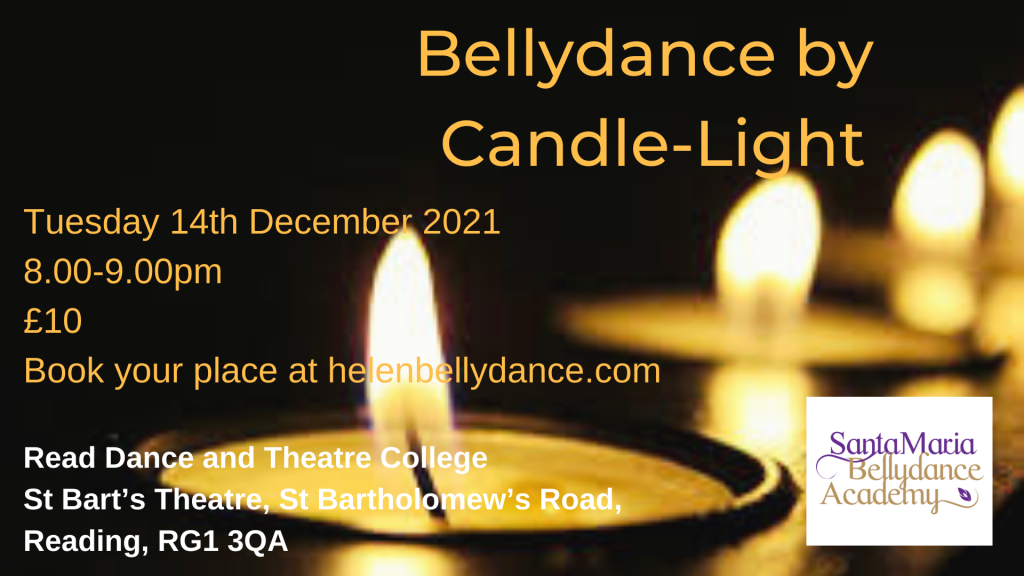 A relaxing, peaceful class to round off your bellydance year.
Join me, Helen, for a special candle-lit class featuring relaxing stretches and calming bellydance movements.
Escape the stress and hectic-ness of the build up to Christmas and enjoy a cosy, calming class with Helen. A great way to bring yourself down gently and kindly after the highs and excitement of the end of term show and other seasonal events.
Bring a yoga mat or towel to sit and lie on and prepare to nourish your bellydance goddess from the inside.
Your class will be held in a space lit softly with fairy lights and (artificial) candles. Feel free to bring your own flame-less candle or lantern if you wish.
Day: Tuesday 14th December 2021
Time: 8.00-9.00pm
Price: £10  sold out
Venue: Read Dance and Theatre College, St Bart's Theatre, St Bartholomew's Road, Reading, RG1 3QA
What to bring: A yoga mat or towel to sit and lie on. Layers or a blanket to wear for the stretches and relaxation.