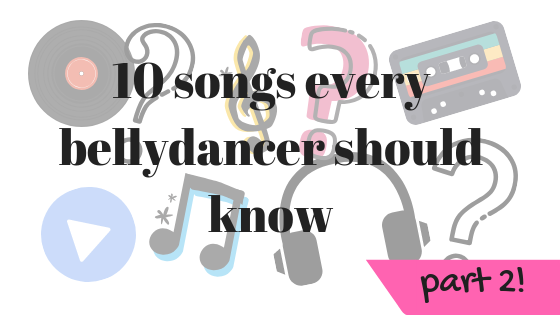 I'm back again with part 2 of 10 songs every bellydancer should know.
(Missed the top 10 part 1? Check it out here)
Once you get further into the bellydance world, you'll start to hear more experienced dancers reeling off song titles. That's because there are certain, epic, songs that us bellydancers just HAVE to know!
It needn't be bamboozling though. My tip is to start with one major artist, for example Om Khalthoum, and listen to their most well known tracks.
That way you'll start to get a real feel for their style. Take your time to find what you like.
(My other tip is don't be put off by the epic length of some of the songs! 😮 It's a whole new world, think of how long the songs are in an opera.)
It's been almost impossible for me to narrow down the list, there are so many amazing songs out there! But I've finally managed to choose my faves and I've even added a link to where you can find an example of an arrangement of the song (you're welcome 😉).
Bear in mind that there are many different arrangements of most of these songs. Dancers often have their own preferred version, and you will too, undoubtedly 😊
Leylet Hob, Om Khalthoum
Lessa Fakir, Om Khalthoum (the link is to a video of Soheir Zaki performing it)
Mashaal, Mokhtar al Said
Salaam Allay, traditional Egyptian folk song
Ansak, Om Khalthoum
Bitwanes Beek, Warda (I'm going to dance this one day once I get the courage!)

Taht El Shibak, (the singer Fatme Serhan helped make this a classic for bellydancers. But I just love this video with Taheyya Carioca)

Ganal Howa, Abdel Halim Hafiz (you will just live this video!)
Akdeb Alek, Warda
El Hob Kollo, Om Khalthoum (this is my favorite Om Khalthoum song)
So go out there, find the versions and styles that you like out of this rich list of belly dance beauties and get dancing! In the bathroom, in the garden, in the hallway – wherever you like!
I hope I've bought a little bit of inspiration into your dance life for today ⭐🎁.
Until next time, love and shimmies,
Helen xxx
Ps. Are you in the loop? Subscribe for blog updates with bellydance tips to get on track and stay inspired. Plus receive my free online class! Go here to get yours.
Pps. Learn with me anytime, anywhere! In my online studio at Santa Maria Bellydance Online, you'll find an ever expanding library of my technique, drills and bellydance choreography classes go to santamariabellydanceonline.com. Santa Maria Bellydance Online is my full online bellydance school that you can access anytime and anywhere you have internet access!
Ideally, regular live classes are the cornerstone of your bellydance learning. But sometimes class isn't enough to get you unstuck and master the moves to the level you want to. Or maybe you can't even get to a regular class!
So I created the Santa Maria Bellydance Online website to help you get past your "bellydance blocks" and nail the moves that you'd love to see yourself doing.
I love my youtube channel and there is loads of good, free, tuition there! (I'm really committed to it) But if you want the full, in depth coaching experience with me, my comprehensive online studio is the way to go 🙂
Once you register as a paid up member to SMBO you'll have immediate access to my short choreography sequence workshops, my beginner bootcamp workshop, individual movement tutorials, practice drills and conditioning exercises, combination tutorials, warm ups and cool downs. It's everything you need to learn and master this gorgeous art form.
It's my aim give you step by step, non-intimidating bellydance classes that help you embrace your body like never before – even if you're super limited on time and space. Start learning with me in your very own home today! Go to Santamariabellydanceonline.com.