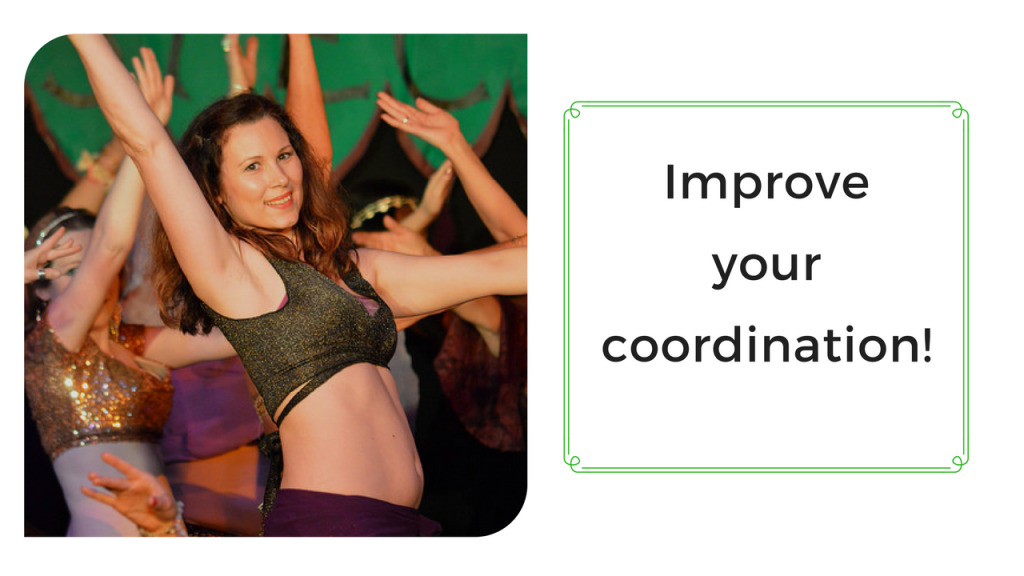 Do you struggle to coordinate your hands, feet and arms when you dance? Don't worry, it's completely normal!
But it doesn't have to be that way. With a bit of practice you can smash through that awkward feeling and enjoy artful, controlled and confident movement.
If you like to have a bit of guidance and "hand-holding" during your practice, then you'll love today's tutorial.
I've compiled a short belly dance coordination drill to help you practice harmonizing different movements simultaneously. The idea is to do it on a regular basis so you can make small, incremental, solid improvements to your coordination skills.
I'll talk you through as we go, giving you prompts and pointers to think about. We'll be using a basic camel action and layering on some arm patterns and positions. You'll be gently challenged to combine different movements whilst maintaining a calm and cool composure.
And the best thing about this drill? The more you do it the better you get!
If you thought that your coordination skills were a lost cause, think again. I KNOW you can do this! All it takes is a little commitment from you to squeeze in just a couple of minutes of practice on a regular basis.
Let's get started!
I hope you enjoyed the drill, I'd love to know what you think! Be sure to leave me a comment on youtube and give a thumbs up (so I know you dig this kind of thing). Thank you so much.
Are you ready to dip your toe in the glittery belly dance waters? Why not try a one off taster session with us! Our next batch of taster sessions are now open for bookings – woo hoo! It's like Christmas – we only open these up once a year. Head over to our Beginner page and book your place now!
If you're further along on your belly dance journey I'm happy to say that our complete Summer timetable is open for bookings! We have courses to suit all levels of dancer, so there's something for everyone.
I'm incredibly proud of our SMBA coaching team who stretch their creativity each term to bring our students new and exciting routines. Our Summer term is no different! You can expect to be expertly guided through the moves and polished to performance standard throughout the 12 week course.
Go here to book your place now!
Thank you so much for reading, until next time …
Love and shimmies,
Helen x
Ps. Check out my Workshops and Events page to stay in the loop with the amazing upcoming workshops and showcases I'm involved in. Here's the latest:

Casbah Cabaret the bellydance showcase for aspiring belly dance students and enthusiastic bellydance fans! Sunday 22 April, 7.00pm-10.00pm, doors open at 6.00pm,The Outlook 76-78A Kings Road, RG1 3BJ Reading. Early bird tickets £8 til tomorrow when prices go up to £10
Ozgen workshop places open today! After last year's sell out workshops, I'm delighted to be hosting Ozgen once again! Tango Fusion for performance and Romany Gypsy are the exciting themes this time. Book your place now

I'm super proud to say that after watching my interview with Charlotte Desorgher about the Bellydance for Joy project, my Desert Pearls have organized an amazing Hafla. They've even invited me to perform! Check out the facebook event for more info.
Vintage Style Belly dance Choreography Workshop with Helen Saturday 24th March 2018, 2.00-4.00pm, Redditch, £20 – Sold out email Emma at bellyjewels@mail.com to be added to the waiting list
Vintage Style Belly dance Choreography Workshop with Helen places available Saturday 28th April 2.00-4.00pm, Gloucester, £25 Contact Penny at pennybellydancer@hotmail.com for bookings and info
Coach Natasha Bradley will be teaching a masterclass workshop on Classical Persian dance featuring a choreography by the Persian dance superstar Helia Bandeh. 21 July 2018, Reading UK – save the date
Pps. Take a peek at my latest addition to Santa Maria Bellydance Online