Belly-Lates®
Online and Live-Stream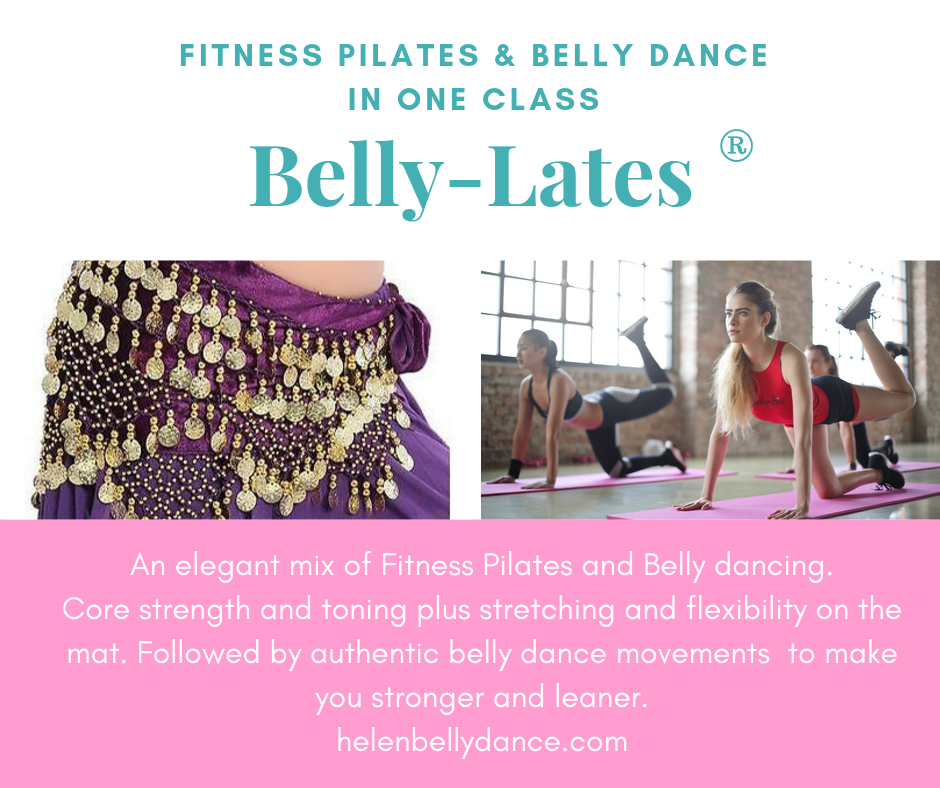 A new class for everybody!  A brand new style of class that I've been developing over the last year or so. Perfect for those who already bellydance or those who are curious about learning bellydance (particularly for the benefits of muscle tone and posture).
What is Belly-Lates®?
Belly-Lates® is an elegant mix of Fitness Pilates and Belly dancing.
Each class includes core strength exercises, stretching on the mat, mobility, plus standing exercises and authentic belly dance movements.
The class offers you a new way of connecting to your body that you can carry through to every day life. You will be challenged through mindful, low-impact exercises and movements that translate into an overall easier, more fluid way of moving in general.
Your posture and tone are the canvas for every movement you make! Belly-Lates® classes will help fill your dancing with presence and intention. But you don't need to be a performing bellydancer to benefit from inner strength. It can help you feel stronger and leaner physically and more confident emotionally.
In a Belly-Lates®  class, the focus is on the quality of your movement when challenged with your body's own resistance. (There's no equipment and speed is isn't a priority)
Who can do Belly-Lates® ?
Anyone who is generally physically healthy is welcome to come along. (If you suffer from specific injuries then you might want to seek out a clinical Pilates class).
If you already belly dance, this is a great way of improving your strength and posture. If you've never danced before, this is a lovely way to develop core strength, mobility and flexibility combined with an elegant posture and overall graceful way of moving.
I have no belly dance experience. Can I still come to class?
The class aimed at complete beginners (take a look at our Bellydance Essentials course). Though ambitious beginners won't be turned away!
What should I wear and do I need to bring anything?
Wear what you would normally wear to a yoga, Pilates or exercise class. The class is in bare feet, so you don't need any special footwear. If you have a mat feel free to bring it along, though there will be plenty in the studio to borrow. If you wish, you can bring a scarf to tie round your hips for the belly dance movements.
Upcoming Belly-Lates® Sessions
I'll be teaching a 12 week series that includes a weekly 45 minute session. The class will remain in a private facebook group for the following 7 days so you can catch up or repeat the class.
Start date for next course: Wednesday 24th February 2021
Classes: Wednesdays starting Wednesday 24th February, last class 31st March

Time: 8.15-9.00pm
Where: Live-streamed in Zoom and also in a private facebook group. Details will be emailed to you once you've booked. (Please allow 48 hours. Didn't receive an email from us? Drop us an email at mail@helenbellydance.com)
What will I need? You'll need a good internet connection, ideally a webcam so I can see you and make corrections, an exercise/yoga mat for your own comfort, enough space for the class.
Booking *: £30 for 6 weeks or save and book for 12 weeks at £48
6 week series £30

12 week series £48

*Kindly note that by making this booking you understand that course places are non-transferable and non-refundable regardless of student circumstances, e.g. illness, injury, holiday, pregnancy. You also understand that film footage and photos from the session may be used for promotional purposes.