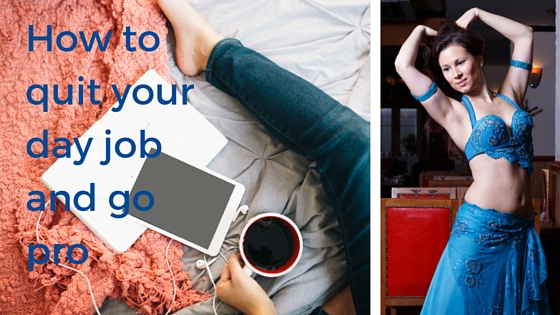 Wow, it's been a whlie since I got busy with a new blog post and I'm sooooo happy to be writing and filming for the first time this year.
I didn't intend on having an extended break from my blog but I'm happy to say that we are expecting another addition to our family this Summer and I've had two months of grotty old morning sickness! It slowed me up a bit but, happily, I'm feeling a bit better now so things are getting back to normal 🙂
Today I want to talk to you about going pro. Now, whether or not ditching your day job to be a full-time bellydancer is one of your dance dreams, I think you'll enjoy this week's video.
In today's blog I'll give you the checklist of things I did (and didn't do) which, I believe, gave me a fighting chance of fulfilling my dream to bellydance full time.
(and no, I didn't have someone at home paying the bills)
I'll tell you now, some of these will not be what you expect!
Dive in now and hear how I managed to go from clueless to clued up, quit my day job and go pro:
I'd love to know what you thought of today's blog, be sure to leave a comment under the youtube video (and of course give a thumbs up if you enjoyed it!)
Do you have a bellydance dream you'd like to reach this year? Here at SMBA we do our absolute best to help our students smash their dance goals. Once again we have a cohort of students ready to take my exam prep workshops and video assignments and then take an IDTA exam in May.
If you like the idea of gaining a student exam in bellydance then you might want to check it out as we still have some (limited) places left on the coaching programme. The closing date to sign up is 14th March, that's just 4 weeks away!
Thanks for reading, see you next time
With love and shimmies,
Helen x
Ps. Subscribe for blog updates with bellydance tips to get on track and stay inspired. Plus receive my free online class! Go here to get yours.