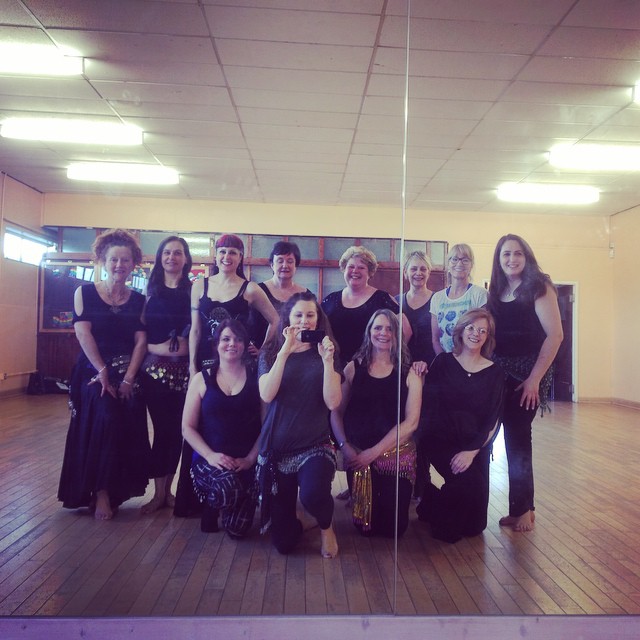 Our Silver award exam coaching workshop – good luck ladies!
Hey there!
Have you ever had one of those "hallelujah" moments where a teacher gives you a nugget of dance wisdom? Something clicks, the penny drops and you feel that you've been nudged a little further along.
It's not a particular move or technique but a way doing something which informs your dance overall.
As a dance student I live for those moments.
Back when I was a teenager learning ballroom dancing (sporting 3 inch heels and enough rhinestones to bling up a house) my teacher dropped a concept into his teaching that struck such a chord with me that I still use it in my bellydancing and teaching today (with a few of my own modifications to make it fully pertinant to bellydance).
On that note I'd like to say thank you to my former teacher, Bruce Lait, for his many pearls of wisdom that's formed my personal "dance tapestry".
If you're a fellow fan of "dance pearls of wisdom" then dig in to this week's tutorial to get coaching from me on how to say goodbye to clunky arm transitions and hello to poised, coordinated arms.
I'd love to know, what dance pearls of wisdom have struck a chord with you? What gave you a "hallelujah" moment most recently and who was it from? Leave a comment and take the opportunity to say "thanks teach!".
If you're curious about learning to bellydance with us here in Reading, UK, take a look at our upcomng courses (we start in 2 weeks!). I'm uber proud to say that we have a stunning team of coaches to guide and coach you. If you're a complete beginner we even have a course specially designed for you.
Thank you for reading,
Hugs and shimmies,
Helen xx
Subscribe for blog updates with bellydance tips to get on track and stay inspired. Plus receive my free online class!